All Header Tags Checker
When you optimize all your header tags, your site pages could become more SEO-friendly.
To find out more about your header tags and how they can be improved, enter your website URL here.


Why HTML Header Tags Are Essential


How to Use the SERPWizz Header Tag Checker


Ready to Try it Out For Yourself?

Why HTML Header Tags Are Essential
Header Tags Make Your Site Pages More Readable
Headers are the building blocks of any website article or website page.
By having several subsections and clearly marked headings in your pages, the readability significantly improves.
This is beneficial for both humans and bots, so don't neglect your header tags!
Header Tags Make Your Site Pages More Relevant
When Google scans pages or articles, the headings and subheadings are more valuable than the actual text.
Whenever you try to optimise your pages, you'll notice that one of the most important things to do is to improve the header tags by adding the right keywords.
This shows how truly essential header tags are for optimising your on-page SEO.
This header tag checker will make it easier for you to see where you stand and how you can improve your header tags in the future.
Don't miss out on this opportunity to boost your on-page SEO!

Step 1:
Enter your website's URL for the tool to check your pages.
Step 2:
Get your instant results with tips/suggestions for improving your HTML header tags.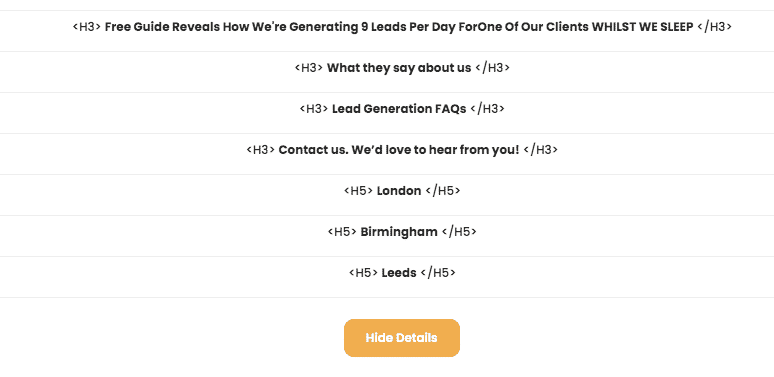 Step 3:
Click on the "show details" button to see a more detailed analysis of your headers.
So if you want help with driving more traffic to your page, why not sign up today?
Get access to Serpwizz's all header tags checker tool along with a whole host of other SEO auditing features.
© Copyright • SERPWIZZ • Privacy Policy