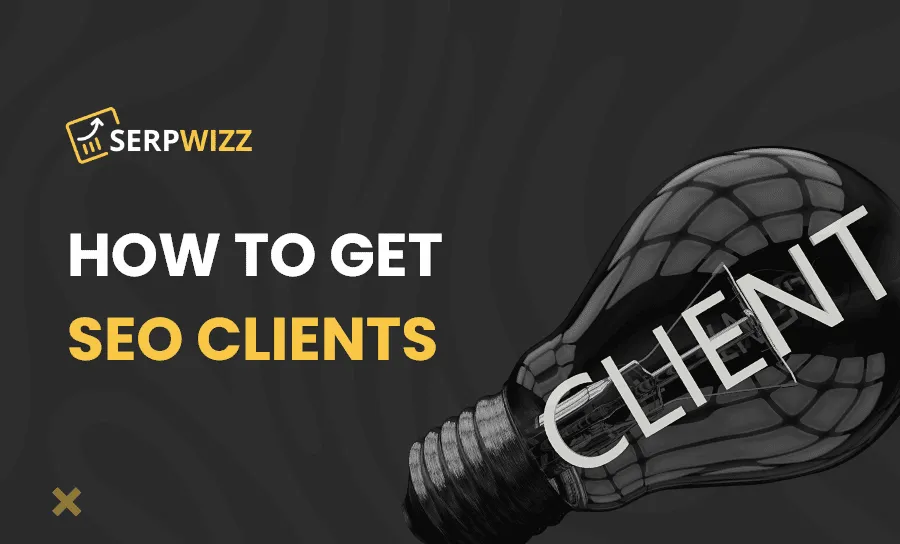 Does the idea of attracting more SEO clients to your website sound exciting?
Once you start to see the number of clients increasing, this will make you feel super good about the work you are doing because you know it's working. However, SEO has been around for a long time, and the way you attract new clients has changed. 
It turns out that there are several steps you can take to help you get more clients. In this article, I want to provide you with an overview of how this process works. This article's end goal is that you come away knowing more about a strategy that you think might work for your business. 
You have probably heard this before, but there is no one-way approach when it comes to SEO. We need to take into account the following areas:
Brand identity

Target audience

Data analysis

Market trends

Industry

Competitor analysis
These 6 areas are what we need to work on first when thinking about how we can get SEO clients. Let's begin.
What kind of service do you run? Do you specialize in a specific branch of SEO?
Your brand identity will impact the audience that you want to target for SEO. The worst step to take is to target the wrong clients for your SEO business. For example, did you know that mobile users take up around half of the web traffic? You will be able to read more data here. 
This means you need to think about what SEO service you want to provide. Judging from this stat, mobile SEO is very important nowadays. 
But SEO is in demand for all online businesses. I would like to highlight the stat below. 
The statistic is that the average amount spent on SEO is high. This means that SEO can come with a hefty price. 
What does this mean for new entrants?
Well, it appears that new entrants may find it difficult to raise funds to use an SEO service. With the amount of money spent on SEO, it is evident that they may find it difficult to get their brand on the map. When you first begin working on your brand, SEO is not the first factor that comes to mind. You are usually concerned with creating your content first and thinking about your business goals. 
However, online businesses can't survive without SEO. Why not give new entrants a hand with their SEO?
There is no better way to help them than to give them a free SEO audit.  If you offer a free audit on your website, then new entrants will be able to test how their site works, and it will provide them with a hugely valuable tool for free! 
They can't go wrong, and you can't either aim to increase SEO clients. If you like the sound of this approach, then search for an industry-related keyword on Google, go to page 5, and audit a site on that page. The chances are that their SEO isn't strong. 
You can reach out to them with your audit. This is a better way of cold calling as it gives the business a reason to use SEO because no online business wants to rank beyond page 1. 
Understanding your client
A free SEO audit can help with any client, but what happens when the client needs further help to develop a more precise SEO strategy?
This is when you come into the picture. You want to understand the client's business and what SEO strategy you think will work best. Communication and analysis will be key here. One area that the client may need help with is link building. This will mean making sure that their brand is being marketed thoroughly through social media exposure and blog posts with the correct backlink strategy. 
This could be a whole area that you specialize in. When it comes to SEO, don't be afraid to branch out from typical SEO agencies. Online businesses want to know that agencies can specialize in specific departments of SEO. Consider the image below:
SEO is complex, you need to consider all of these factors and narrow them down to 1 or 2 areas that can you excel on. 
If you start to work on just a few of these areas of SEO, this may open up the right opportunities. There may be other SEO agencies that aren't delivering the right results for their clients. If they know you're good, then they can re-direct their clients to yours in exchange for a commission. 
In SEO, partnerships exist and they can be really useful in getting more clients.
With all the information discussed above, the question that you probably have is what can I do right now?
There is no right or wrong approach, but here is how you can get started. 
You can begin by writing blog posts on how SEO can help with business growth. Provide users with a step-by-step guide and share it online. A lot of potential SEO clients exist on Linkedin and you can research more into how you can communicate with them. 
However, the blog post itself can be any area of SEO you like.